How Does Spray Foam Insulation Work?
Spray polyurethane foam (SPF) is unique because it can expand many times its original size to cover surfaces, creating a seamless barrier that fills gaps, holes and air leaks. Specialized equipment is used to apply the spray polyurethane foam and proper technical training is required to ensure that it's applied safely.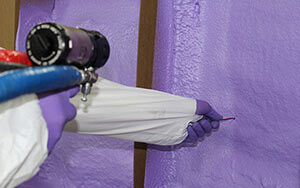 Benefits of Spray Foam Insulation
Comfort - Helps prevent air leakage from the outside, improving the overall comfort of the home.
Improved Indoor Air Quality - A tighter home envelope contributes to lower levels of humidity, dust and pollen inside the home.
Energy Efficiency - Less energy required for heating and cooling resulting in lower utility costs and long-term savings.