Uses
Intended for residential, commercial, industrial and institutional building applications where insulation is required. It can be used above or below grade, for interior or exterior building envelope applications including; exterior, cavity and foundation walls, between steel or wood framing, under floor slabs, in cantilevered areas and in specialized applications.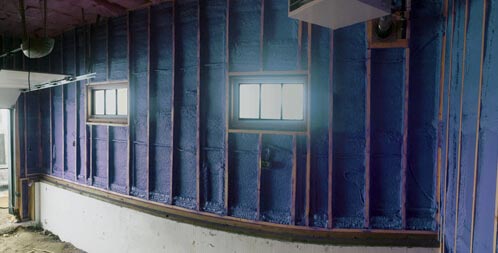 Features and Benefits
Apply more product with less time - The unique formulation allows for one pass with a nominal thickness of 5" per pass and a maximum thickness of 5.5".
Superior Thermal Resistance - The LTTR value of WALLTITE XL is higher than traditional insulation products resulting in reduced conductive heat loss and lower energy consumption.
Excellent Air Sealing Ability - WALLTITE XL is a closed-cell insulation that expands while being installed creating an effective air barrier, reducing air leakage, resulting in improved comfort and energy savings.
Quality Installation - WALLTITE XL is installed by applicators that are licensed through BASF Canada's Quality Assurance and Training Program and verified by a third-party, Caliber Solutions Inc.
Experience - With over 30 years of experience in spray polyurethane foam insulation, BASF Canada is well equipped to understand the challenges of the Canadian climate. Consumers can rest assured that they are working with an experienced spray foam manufacturer in both residential and commercial construction.